How Do I Start a Trucking Business?
There are many businesses that can be started from home with a small investment. Perhaps the most unique of these is owning your own truck and operating it as a business. As an independent owner-operator, you get to set your own hours and working conditions. While also enjoying the benefits of operating your own company. However, if you're looking to start a trucking business, there are a few things you need to know.
In this comprehensive guide, we will explain everything you need to know about starting a trucking business. Including the best reasons to start a small business in the first place, why trucking is a lucrative business opportunity, the different jobs available in the trucking industry, how to actually start a trucking business, and much more.
The Best Reasons to Start a Trucking Business
There are many reasons to start a small business. Some of the most common reasons include being your own boss, setting your own hours, and having great income potential. People who choose to become independent owner-operators enjoy all these benefits.
You are your own boss, controlling your finances and working conditions. Plus, you get to set your own hours and work whenever you want to. This allows for a much more flexible lifestyle than working for someone else. It can also be a great option for parents who need flexibility in their schedules.
Also, as the owner of the business, your earning potential is nearly unlimited. If you put in the work and seek out clients, you'll be able to make a very good living. Probably much more than you imagine is possible right now.
Let's look at some the benefit of why your should start a trucking business in more detail. So that you can understand these perks a little bit better.
Self-Employment
One of the main reasons to start a trucking business is to become self-employed. A self-employed individual is responsible for paying their own taxes, insurance, and benefits through their own company. This is opposed to being an employee who gets a salary and benefits from an employer. Being self-employed can be extremely rewarding, but it also comes with some risks.
When you start a small business, it will cost you money upfront. This means you will need to have enough saved up to cover all expenses until you start making a profit. That said, you will be your own boss, accountable only to yourself and your clients. This is a huge quality-of-life upgrade that most independent truck drivers really enjoy.
Work Your Own Hours
Another great advantage of working for yourself is the flexibility in your schedule. You are free to work when you want, where you want, and with whom you want. If you have children or other dependents, you can choose to work full-time or part-time. You can also choose to take time off for vacations, sick days, or any other reason you might need. Best of all, you won't need to run your decision by anybody else because you are the boss.
However, although you can work whenever you want, you will need to work enough to generate a consistent income. If you don't work enough, you won't be able to pay your bills. A large part of being self-employed is learning how to manage your time and striking the perfect work-life balance. That said, as an independent small business owner, you will eventually be able to enjoy much more time off than would ever be possible if you were an employee working for somebody else.
Great Income Potential
Starting trucking business can also be an excellent way to attain financial security because you have more control over your income than if you were working at a normal job as an employee. If the company you work for decides to cut your pay or lay you off, it will affect your financial situation. But if you own your own business and have a steady stream of customers, you will always have a way to earn money.
There are many types of small businesses that have high earning potential. Trucking is one of them. The demand for truck drivers is projected to grow as the economy expands. Therefore, trucking is expected to be a very lucrative business opportunity for many years to come. As the owner of a trucking company, you will probably be your very first driver as well. But in time, you will probably want to expand and hire other drivers while you oversee the client side of things. But we'll come to that.
Trucking is a Lucrative Small Business Opportunity
If you're thinking of starting a small business, then you're probably considering a few different industries and wondering which ones offer the best opportunities. After all, not every business is equally profitable, and some are more challenging than others in terms of the capital required, the time required, and the amount of stress involved with starting the company.
Rest assured that the trucking industry is a great choice and has become an extremely lucrative small business opportunity for savvy entrepreneurs. In addition to its low entry cost and favorable demand outlook in the coming years, there are many other reasons why this industry offers a lot of potential for those willing to invest in getting started.
Why You Should Start a Trucking Business
The trucking industry is a lucrative small business opportunity for many reasons. The first is the low entry cost of starting a trucking company. To start a trucking company, you'll need to invest in a small fleet of trucks and employ a few drivers. Although the upfront cost may be significant, the average capital required to get started is low compared to other business models. This is especially true if you decide to finance your first truck rather than purchasing it outright.
The second reason is the urgent demand for qualified drivers in the coming years. The trucking industry is expected to face a shortage of nearly 200,000 drivers over the next decade. As such, the demand for truck drivers is expected to continue to rise as the economy grows and online shopping becomes more prevalent. This means that there will be lots of money to be made as a truck driver in the decades ahead and even more money to be made if you own a trucking company.
But as is the case with any business, if you're thinking about starting up an enterprise, then it's important to be familiar with the ins and outs of the industry. So, let's look at an overview of the trucking industry, examine the pros and cons of operating a trucking business, and see what insights we might be able to discover. This way, you'll be able to make an informed decision about whether a trucking business is really the right choice for you.
Overview of the Trucking Industry
The trucking industry is massive. It involves the operation of trucks and other large vehicles on roadways for the purpose of transporting goods and materials from one location to another. It's one of the largest industries in North America and supports more than 8 million workers across Canada and the United States.
The need for truck drivers will only continue to grow as technology continues to advance, resulting in a shortage of qualified drivers. In the coming years, the demand for truck drivers is expected to exceed 1 million people due to an aging driver population, increasing adoption of autonomous driving technology, and an increase in e-commerce deliveries.
With that in mind, let's look at a couple of key statistics and answer a few important questions you may have about the trucking industry and the day-to-day responsibilities of a truck driver. We'll also give some insight into what it takes to run a successful trucking company and what a normal day might look like for an independent owner.
What is the Job Outlook for Truck Drivers?
There are more than 3 million truck drivers in North America, and the vast majority of these drivers work for for-hire trucking companies. The job outlook for truck drivers is expected to grow exponentially by 2026, which is much faster than most other industries.
That said, the job outlook varies significantly according to the size of the company in question. This is because larger companies have a higher demand for truck drivers since they typically have more commercial trucks on the road at any given time compared to smaller companies.
All things considered, the outlook is very favorable up to 2026 and even for the foreseeable future beyond that, making now the perfect time to start working as an independent truck driver or, even better, to start up your own trucking company.
How Much Can You Earn If You Start A Trucking Business?
The average truck driver's salary for an entry-level driver is about $40,000 per year, but this varies significantly based on your employer, experience, and the types of routes you're driving.
With a few years of experience, you can expect almost double this. Something in the neighborhood of $60,000-$80,000 per year is fairly standard for an experienced long-haul driver working full-time.
Owner-operators with their own clients and truck can easily earn six figures a year; it really just depends on your clients and how much time you want to spend on the road. Much like with any other business, you'll get out of it what you put in.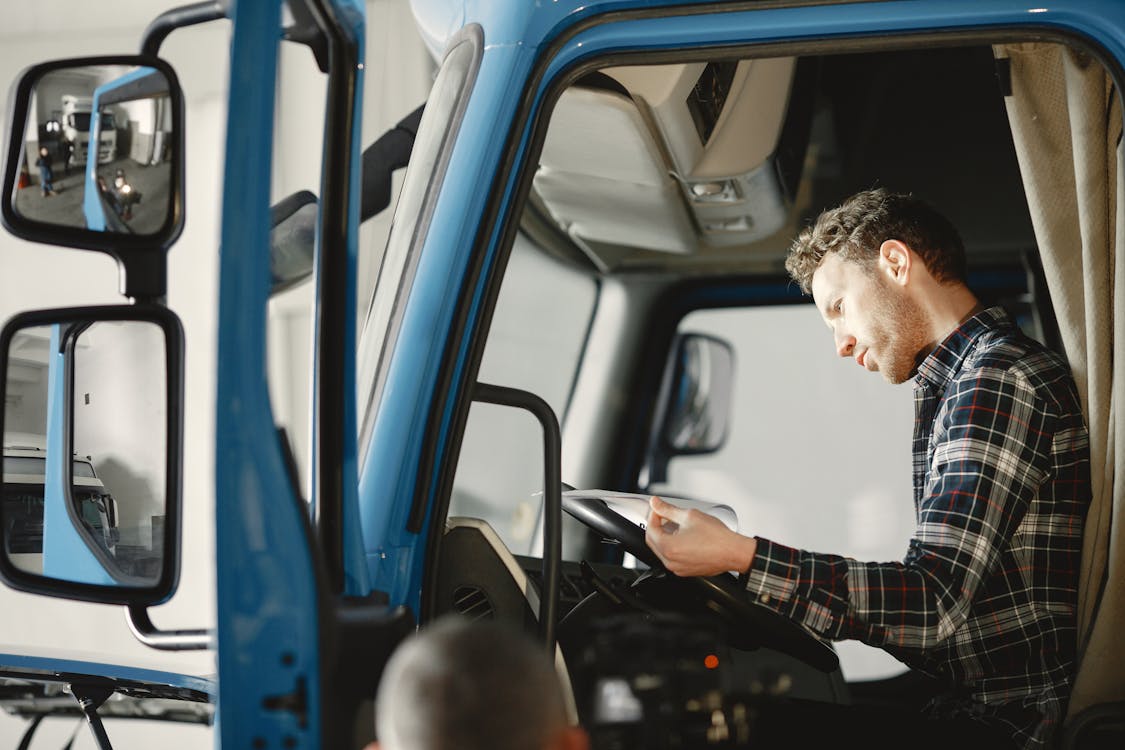 Different Jobs in The Trucking Industry
Trucking is an interesting and complex industry. Depending on the type of truck you drive, and the company where you work, your job as a truck driver can come with various responsibilities, duties, and challenges. If you're interested in pursuing a career in the trucking industry, it's important to know about the different types of jobs available.
From entry-level positions to management roles and everything in between, there are a variety of opportunities for those looking to work in this field. Depending on where you live and your career goals, there are many different paths that lead to working as a driver in the trucking industry.
Let's go over a few of the most common types of truck driving positions so that you can decide what type of trucking business you want to start.
Long Haul Freight Drivers
Long-haul freight drivers are responsible for driving their shipments from one end of the country to the other. These drivers spend a lot of time on the road and typically have to adhere to strict deadlines when it comes to getting their load to its destination on time. Depending on the company, a driver may be required to make certain stops along the way to pick up or drop off other loads. This type of driver usually has a set schedule and typically drives during daylight hours. When it comes to pay, long-haul truckers usually make more than short-haul drivers.
Short Haul Freight Drivers
Short haul drivers usually make local deliveries within a certain region, typically within 100 miles of their start and end points. While both long-haul and short-haul drivers often have set schedules and have to adhere to tight deadlines, short-haul drivers often work nights, weekends, and holidays. Short haul drivers often make less than long haul drivers, but the difference in pay isn't drastic.
Dump Truck Drivers
Gravel or dump truck drivers haul dirt, aggregates, and other materials used to build roads and other types of construction projects. Dump truck drivers often work with a crew and have to make sure their truck stays stocked with the appropriate amount of material for each project. Dump truck drivers make sure that their truck is loaded within the weight limit and that the load is evenly distributed. This means that the weight is evenly distributed throughout the truck bed.
Tanker Drivers
Tanker drivers haul chemicals, fuel, and other hazardous materials. If you drive a tanker, you might have to have special training and licensing. It's important to understand the different regulations and restrictions associated with the type of material you transport. Tankers are often required to have a placard on the side of the truck that shows the type of hazard being transported. This helps other drivers and law enforcement officials recognize the load being hauled in the truck.
Flatbed Haulers
If you're driving a flatbed, you haul large, bulky items that don't fit in a truck bed. This could include furniture, appliances, large pieces of construction equipment, or other large pieces of cargo. Flatbed drivers often have to pick up and drop off their load at the shipper or the shipper's location. If you drive a flatbed, it's important to have a designated securement system to secure your load. Your load could be anything from furniture to construction equipment, so you have to make sure it stays in place while you're driving.
Dry Van Haulers
These type of trucks haul just about anything, although they typically transport dry goods such as food, clothing, and other non-hazardous materials. As a Dry van hauler, you typically pick up their load from a shipper, transport it to its destination, and then drop it off at a receiver. Dry van drivers often have a set schedule and work a regular work week. This type of driver often makes less per mile than other types of truckers.
Automotive Haulers
Automotive haulers haul cars and other vehicles. This type of trucking job often requires special training and licensing, and the company you work for may have special requirements when it comes to the type of vehicle you use. Automotive haulers typically have to load and unload their vehicles at a shipper or receiver. This type of driver may have to work nights and weekends to accommodate the pick-up and drop-off times of the shippers they work with.
Truck Driver Instructor or Trainer
If you enjoy teaching others, a truck driving instructor or training position might be the right fit for you. While you might not be on the road hauling loads all the time, you still get to be a part of the trucking industry. Truck driving instructors and trainers work at truck driving schools or training facilities.
This is a great profession for those who want to work in the trucking industry but don't want to be on the road all the time. Working at a driving school allows you to help new drivers get their licenses and start a career in the trucking industry. You can share your knowledge and experience with new drivers, and you can help them feel more confident when it comes to the road and the classroom portion of their training.
How to Start a Trucking Business
Now that you know about all of the different types of truck driving and you've decided on one that seems perfect for you, you'll need to actually start up the business, and there is a lot involved with starting a small business. The trucking industry is no exception to this.
So, let's go over everything you'll need to do in order to launch and grow a successful trucking company.
Gain Some Experience Behind the Wheel
If you're new to the industry, one of the best ways to start your trucking business is to get some on-the-road experience. You can do this by applying for a job as an entry-level driver or company driver. During your time as an entry-level driver, you can focus on building your skills and gaining experience under your belt. Once you have enough experience under your belt, you can focus on growing your business from there.
Another option is to apply for a company driver position at a logistics company that might be hiring. These companies often hire experienced team drivers to drive for them. This will give you the opportunity to work with a variety of different loads and customers. Plus, this will also give you the opportunity to earn a solid paycheck while you're waiting to launch your own trucking business.
Create a Detailed Business Plan
Now, before you finance your first truck, you need to have a detailed business plan. This will help you to understand the industry and your specific niche, as well as give you a clear path to follow as you grow your trucking business. Your business plan should include information about your industry, your competitive advantage, your company, and your finances.
You should also include a SWOT analysis (Strengths, Weaknesses, Opportunities, and Threats), which will help you identify potential issues and opportunities in your business. When it comes to finances, you'll need to have a strong understanding of your expenses, profit margins, and revenue projections. This will be very important when you're trying to secure financing for your business.
Finance Your First Truck
When you start your trucking business, you'll need to finance your first truck. The good news is that trucking is a very capital-intensive industry, which means there are lots of opportunities to finance. Here are a few different financing options you can explore when you're getting started:
Bank Loan
If you're starting a trucking business, you may be able to finance your first truck with a bank loan. However, this type of loan is difficult to get and will generally come with high interest rates. Plus, in most cases, you'll need to put down a significant amount as collateral. And if you miss a payment, you could lose your truck.
Commercial Loan
If you're planning to start an operation that involves specialized equipment, such as a refrigerated truck, you'll likely need to go with a commercial loan. These loans are designed for larger operations and are available from commercial lenders. Like bank loans, a commercial loan can be difficult to secure. They will almost always have a very high interest rate.
Finance Your Truck
In most cases, the best option for securing your first truck will be financing. Financing allows you to get your truck right away and spread the cost out over many years. This way, you won't need to come up with a huge down payment. Another benefit of financing is that, in most cases, it is not required to produce collateral. This is often the easiest way to get a loan. Especially when you work with a company that specializes in financing the transportation industry, such as Equipment Finance Canada.
Find Some Clients (or Sub-Contract)
Once you've secured financing for your first truck and have some driving experience under your belt, you can start to find some clients to subcontract with. Sub-contracting is a common practice in the trucking industry; you'll provide your services to another trucking company that has clients and a need for drivers.
Finding sub-contracting work is easy. All you have to do is start calling companies and asking if they have sub-contracting opportunities. The best time to start looking for sub-contracting opportunities is as soon as you start trucking. You can keep a list of companies that have work available and then start calling them when you have time.
Another option is to search for your own independent clients. This is more lucrative, and you'll make more money when you secure the clients yourself. However, there is a lot of work that goes into finding clients. So, as a new business owner, your best bet will almost always be to work as a sub-contractor, at least while you're learning the ropes. Once you have some experience, you will almost certainly make connections with clients, which will open doors for your company.
Expand by Financing a Second Truck
Once you've established yourself in the industry and developed a solid customer base, you can start to expand your business by financing a second truck. This will allow you to take on more work and bring in more revenue. Furthermore, financing a second truck will enable you to collect a better rate of return on your assets. You can do this by applying for a loan on a truck title loan. Truck title loans are like car title loans in that you use the truck title as collateral.
Alternatively, you can stick with what is already working for you and finance your second truck. The process is easy, and it will be even easier if you've already paid off the first truck that you financed when you started up your company. Again, we highly recommend that you contact Equipment Finance Canada, as they are specialists in this industry and have helped thousands of people get financing for first and second trucks. They can even help you finance an entire fleet if you qualify.
Build a Team of Employees
As your business grows and you start to hire more employees, you'll want to get a copy of the employee handbook. This will help you to lay out all the rules and regulations for your employees and will provide a guide for you to follow as you manage your team. You'll also want to make sure to get workers' compensation insurance coverage. This is a type of insurance that every employer should have. It provides coverage for employees who get injured on the job.
Having coverage will protect you and your employees in case of injury. Finally, you should also get a general liability insurance policy. This type of insurance provides coverage if someone gets injured while on your property or while using your equipment. Having coverage will protect you in case someone sues you because of an accident.
Keep Investing in Your Business
As your business grows, make sure to keep investing in it. This can include investing in new equipment, expanding your customer base, and hiring new employees. Keeping up with industry trends and staying on top of new technology will also help you to stay successful.
Additionally, you should try to network with industry professionals, such as trucking company owners and other truck drivers. By leveraging relationships with these individuals, you may be able to get advice, references, and more work as your business grows.
Equipment Finance Canada Can Help!
Equipment Finance Canada is the premier source for transportation industry financing. The application process is quick and easy; all you need to do is get in touch with a representative at EFC, explain your situation, and go over some details about the type of business you're looking to start. After providing a few documents, you can be approved for financing for your first truck almost immediately.
As your business grows, Equipment Finance Canada can help you expand by financing your second and third trucks as well. They can even finance an entire fleet if you qualify for that sort of lending. By starting off with your first truck, you'll be able to build up a payment history with EFC so that even if you don't qualify for fleet lending right away, you may be able to get that sort of financing at some point in the future when you're ready to expand.
So, if you are ready to launch your business in the trucking industry, then be sure to get in touch with Equipment Finance Canada Today.